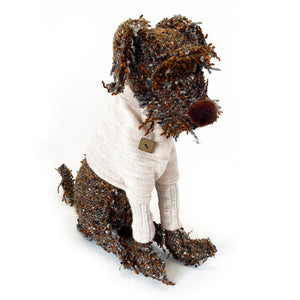 e-pattern
Douglas Dog
Regular price
$16.10
$0.00
Unit price
per
Douglas Dog stands about 35cm (14″) tall. His 'shaggy' look is created with a variety of frayed fabrics.
Douglas was born in New Zealand near Horopito, he has an amazing breeding heritage coming from Alf's gentle farm dog and Penny a small snappy poodle bitch whose owners stopped by a picnic table by the rail bridge for a short period
Alf's owner paid a high price for him!
Douglas's favourite pastime is collecting stones which he puts in the dam enabling the fish to swim nearer the surface – this can be very rewarding. He also plays hide and seek with his stray mates amongst the old car wrecks down the road
He has traveled on cruise ships, eaten at some of the best restaurants and sat at the feet of many famous people, (all of them l can't name owing to the signing of a privacy agreement)
Douglas has a pleasant disposition and a strong sense of duty to his master!
---