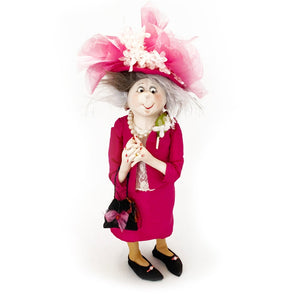 e-pattern
Mother of the Bride
Regular price
$16.10
$0.00
Unit price
per
This lady stands about 16″ (40cm) tall.
Her body is made of velour or doe suede, her hair is fur fabric and she has wire supporting her legs and chenille sticks in her fingers.
She has a great profile, an expressive face and just enough sculpting to make her an easy challenge.
Her clothes are made in silk, or she may like a brocade skirt and her hat is over decorated with great taste.
Every now and then there is a very special occasion to celebrate; right now I'm into the 'Mother of the Bride' theme!
I have designed her with that 'last minute' emotion overload, watching her daughter 'glide down the aisle'. What an amazing time, hanky ready to dry a tear, relief that everyone has turned up and behaving, standing with that 'demur look', all the while her heart is jumping for joy.
Wait till the formal part finishes, she has got some dance moves to scare her new son-in-law!
At least her fuchsia pink silk outfit will show up in the photo's. She already has plans to wear it again – when her horse races next week!
---