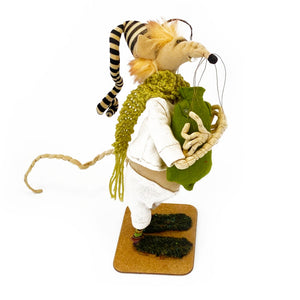 e-pattern
Ratty with Hottie
Regular price
$16.10
$0.00
Unit price
per
Ratty stands about 12″ (30 cm) tall and is a delight to make with his own 'hottie' This is one rat you will love to have as your own or to give to that special friend!
Ratty was born in the Wairarapa quite a while ago, he has many siblings and has succeeded in creating over a hundred children, many of which have lived with a lot of discrimination and misunderstanding from the human race.

Luckily Ratty was adopted by a kind philanthropist in his old age and now spends his time painting, eating peanut butter sandwiches and dancing like Fred Astaire. Ratty's favorite time of day is going to bed, he has his own wallpapered and soft fabric lined cardboard box at the foot of his benefactors bed.

Ratty has a secret past life that occasionally gives him nightmares!
---